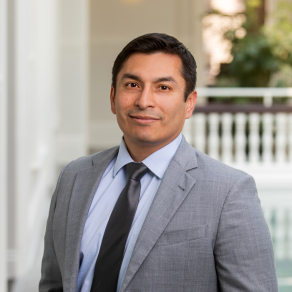 Rob Llanes
Senior Vice President, Business Development
Rob leads The Right Place's Prosperity team, which focuses on business retention, expansion, and attraction in the Greater Grand Rapids region. In this role he will lead the business development and Michigan Manufacturing Technology Center-West teams.
As part of the organization's executive leadership team, Llanes will be engaged in the creation of The Right Place's 2023-2025 Strategic Plan and will be supporting the implementation of the organization's strategy to establish the Greater Grand Rapids region as the next great tech hub of the Midwest.
Rob is passionate about supporting businesses in their growth and looks to help the Greater Grand Rapids region succeed in creating an equitable economy for everyone.
Past Experience
Prior to joining The Right Place, Llanes served as the Sales and Business Development Director at Ottobock Industrials, a startup wearable robotics, exoskeleton and consulting business. He was the company's first North American hire and tasked to build up the foundation of the North American business.
Other past positions include being the Co-founder and Chief Operating Officer of Wafer, Inc., North American Enterprise and Mobility Sales Manager at SES SA, Global Sales and Operations Senior Specialist at SES SA, Leadership Rotation Associate at SES SA, Manager of Customer Strategy, Operation, and System Consulting at Accenture.
Education
Bachelor's degree in Information and Decision Science | University of Illinois
Master's degree in Engineering Management | Northwestern University
Certifications
Pragmatic Marketing
Project Management
Scrum Master