January 19th, 2023
European snack manufacturer SnackCraft hosts grand opening of new U.S. HQ in Kentwood
Business and local leaders joined SnackCraft on January 18, 2023 to celebrate the grand opening of their new U.S. headquarters in the city of Kentwood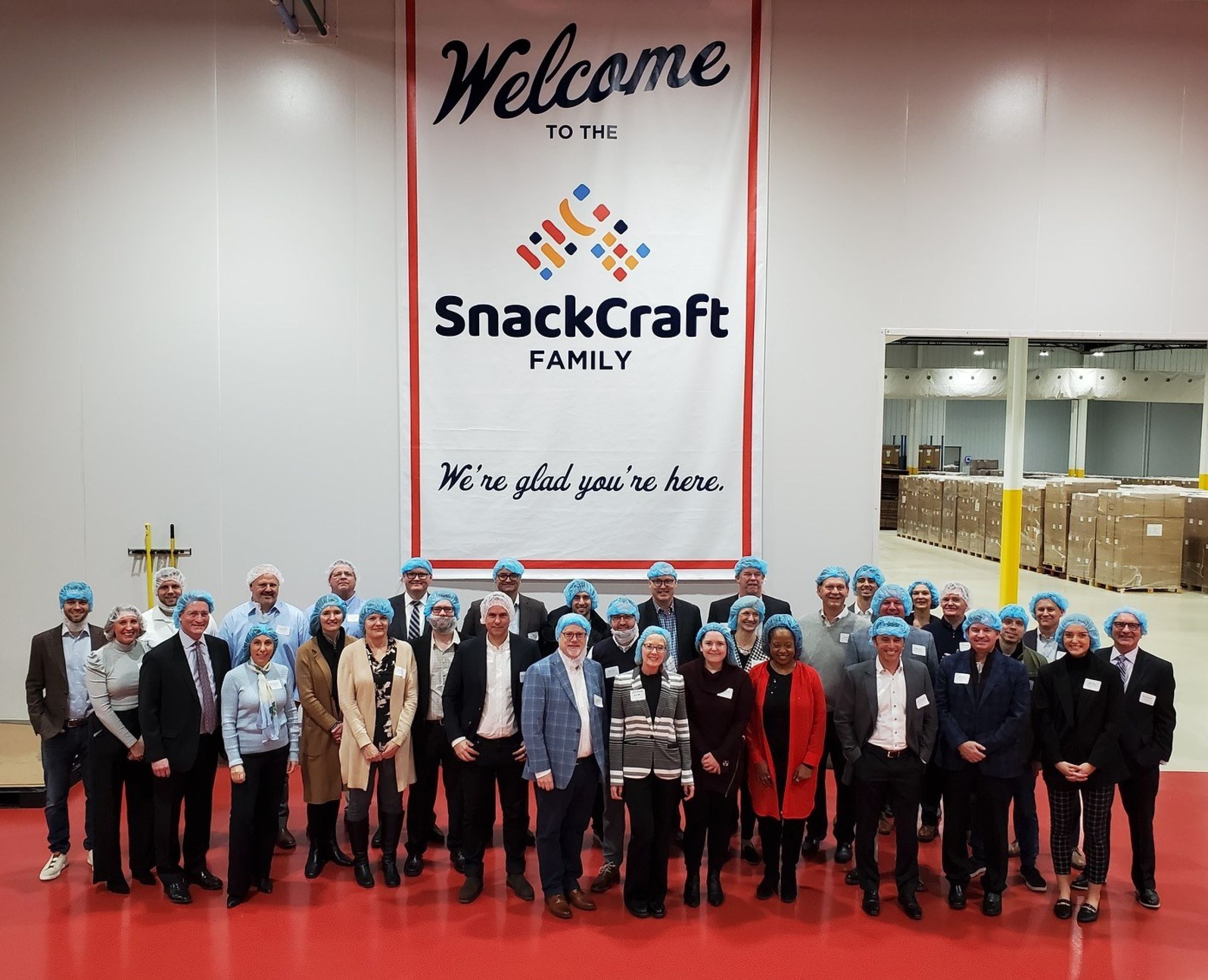 Business and local leaders joined SnackCraft on January 18, 2023 to celebrate the grand opening of their new U.S. headquarters in the city of Kentwood.
The project is expected to generate a total capital investment of $41.75 million and create up to 185 well-paying jobs with the support of a $1 million Michigan Business Development Program performance-based grant. SnackCraft chose Michigan for the project over a competing site in Chicago.
"This investment by SnackCraft will create long-term economic opportunities in our robust agribusiness sector in West Michigan as we work to create good-paying jobs and build on our economic momentum," said Matt McCauley, SVP of Regional Prosperity at the Michigan Economic Development Corporation."Today's grand opening is helping to build the path for continued economic growth right here in West Michigan. We're pleased to work with local partners like The Right Place and the city of Kentwood to bring these high-wage jobs here, and we look forward to welcoming more companies like SnackCraft to Michigan."
SnackCraft is owned by Unismack S.A. First established in Greece in 2008, the company specializes in R&D and the manufacture of high-quality, natural baked snacks which are free from allergens and artificial ingredients. SnackCraft's products include crackers, crisps and baked goods made of unique ingredients like lentil flour, chickpea flour, vegetable flours, various seeds and other innovative natural ingredients.
The SnackCraft facility represents Unismack's first investment and physical operations in North America, which will help the company continue to expand its global market presence that already includes major retailers throughout the United States and around the world.
SnackCraft's U.S. headquarters and snack manufacturing operations are located at a redeveloped facility that was previously occupied by Kerry Foods, with significant renovations, upgrades, and investments in machinery and equipment currently underway. SnackCraft has begun manufacturing its first product runs at this facility and anticipates adding future lines and food processing capabilities in the months ahead.
"We truly appreciate and are thankful for the assistance and cooperation of all who helped SnackCraft build our Michigan facility and start production in record time," said SnackCraft CEO Joseph Riley. "Our partners at Third Coast Development, Mercantile Bank, the MEDC, The Right Place, and the city of Kentwood worked quickly and diligently to help us accomplish all that needed to be done for a successful and on-time start-up."
The new facility will be a co-packer/contract manufacturer of baked crackers, tortilla chips, single and twin-screw extruded snacks, and pellet snacks such as veggie chips and straws. The facility will include an innovation center to assist customers with research and development of new products to meet changing consumer tastes and demand. SnackCraft will also provide warehousing and some third-party logistics for its customers.
The Right Place is supporting the project with in-kind services valued at $5,000.
"SnackCraft's opening today is an example of the continued strength of our region's food and beverage cluster," said Brent Case, Vice President of Business Attraction for The Right Place and project lead."Kentwood has created a desirable location for global companies like SnackCraft to thrive, and we look forward to welcoming them into the community."
"Michigan is home to a growing and dynamic food and agriculture industry. The diversity of commodities grown here makes us the perfect place for SnackCraft to locate a new food manufacturing facility," said Kathy Angerer, Acting Director, Michigan Department of Agriculture and Rural Development. "This is a great example of the global investment, job creation and new economic opportunities for our farmers that are possible when we collaborate. Together we are Michigan strong."
For information on careers with SnackCraft, contact info@snackcraft.com.