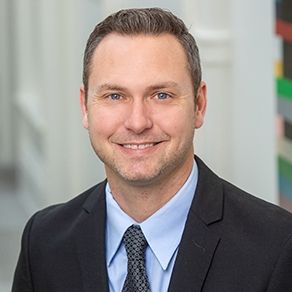 Brad Comment
Senior Vice President, Strategic Initiatives
Brad Comment serves as Senior Vice President of Strategic Initiatives at The Right Place. In this role, he is responsible for the organization's strategic projects and initiatives, business intelligence, fundraising, and public policy. Brad engages with various partner organizations, leading projects that align with The Right Place's Strategic Plan.
Brad is also responsible for strengthening relationships with The Right Place's public and private stakeholders. Additionally, he works closely in partnership with the President & CEO to cultivate and maintain relationships with both new and existing investors. Brad serves as a conduit between The Right Place and the region's elected officials and their staff, representing The Right Place during discussions relevant to our regional economic development strategies.
Past Experience
In his previous work, Brad has held the position of Vice President of Investor Relations at Heart of West Michigan United Way as well as Vice President of Governmental Relations at Kindsvatter, Dalling & Associates.
Community Involvement
Junior Diabetes Research Funding and Advocacy Grand Rapids Public Policy Committee
Gilda's Club Grand Rapids Board of Directors
Grand Rapids Chamber of Commerce Workforce and Development Committee
Grand Rapids Chamber of Commerce Regional Issues Committee
International Economic Development Council Public Policy Committee
Education
Bachelor of Science, Education and Political Science | Central Michigan University