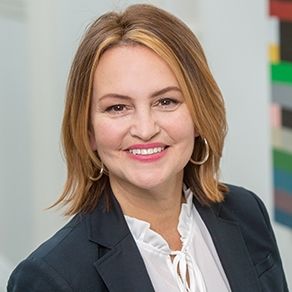 Jennifer Wangler
Vice President, Technology | Director, Technology Council of West Michigan
Jennifer Wangler is the Vice President of Technology at The Right Place. She provides retention and expansion assistance to Right Place clients in Kent County and site location assistance to national and international IT and tech companies. She also serves as the Director for the Technology Council of West Michigan.

Past Experience
Prior to joining The Right Place, Jennifer provided private consulting to local businesses on document control and procedure deployment. She has also worked for 10 years at the Grand Rapids Community College School of Workforce Development, where she was responsible for writing and administering economic development job training grants. In addition, she served as Business Services Representative for the Kent County business community.
Certifications and Community Involvement
Board Advisor for the nonprofit Latinas in Cyber (LAIC)
Certified Business Services Professional, MSU
West Michigan Women in Technology
ISO 9000 Steering Committee
Director, Technology Council of West Michigan
Notable Projects

AUVESY GmbH
MCPc Expansion in GR (28 jobs, $2.8M Capital Investment)
Herbrucks (55 Jobs, $17M Capital Investment)
CUP Acquisition, LLC (54 Jobs, $2M Capital Investment)
Book a meeting with Jen here.