January 3rd, 2019
2019 Economic Outlook for West Michigan
The 2019 Economic Outlook for West Michigan highlighted some fluctuations the economy saw in 2018, and forecasted slower growth than we've seen in recent years. However, the economy is predicted to remain relatively strong overall, and at this time, no recessions appear to be on the horizon.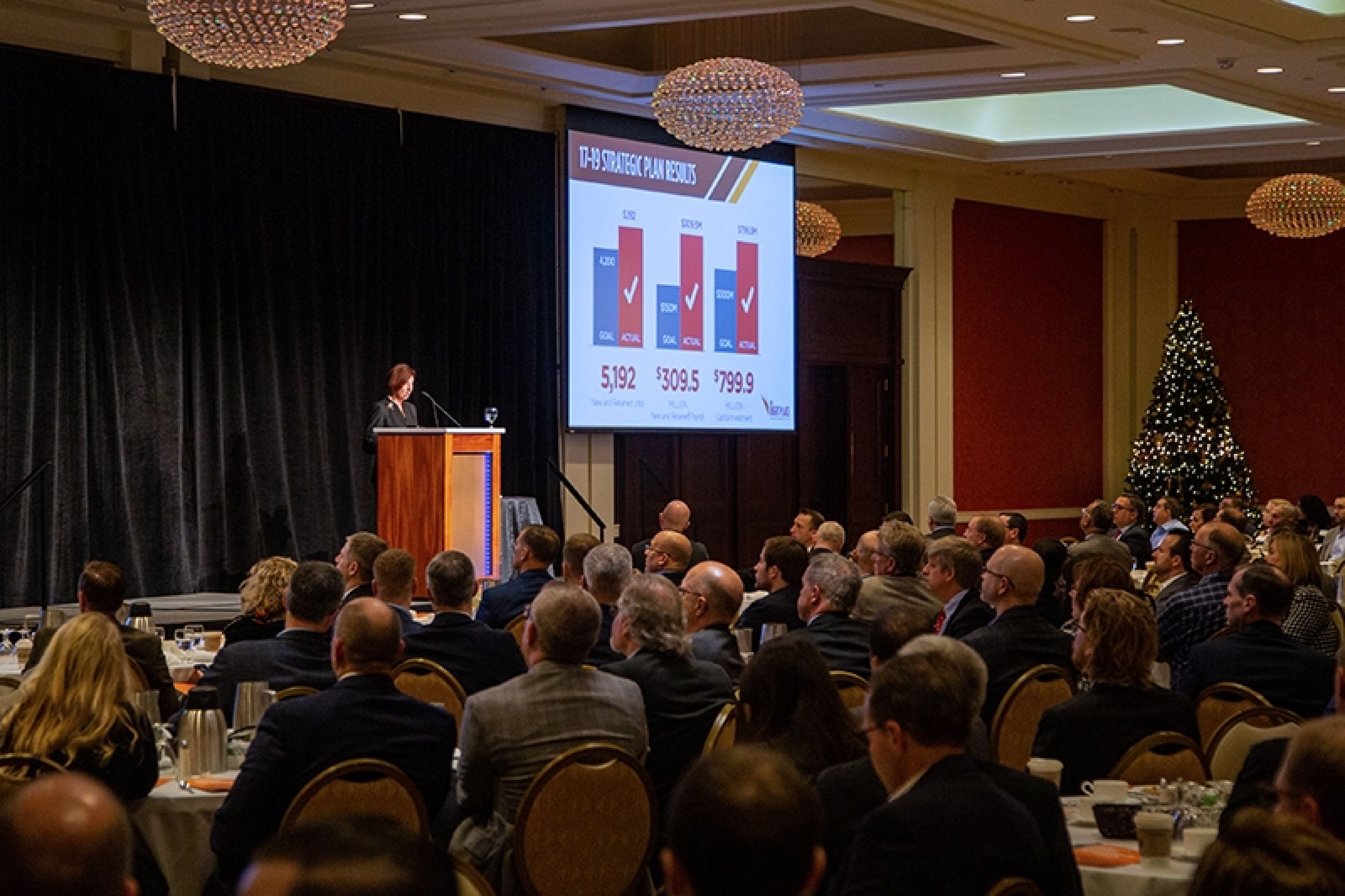 Each December, The Right Place hosts its annual Economic Outlook for West Michigan to provide insights on regional, state, and national industry trends in the economy. This widely attended event attracts more than 400 business leaders and community members, who look to industry experts for an in-depth review of the past year and forecasts on what's to come.
The 2019 Economic Outlook for West Michigan highlighted some fluctuations the economy saw in 2018, and forecasted slower growth than we've seen in recent years. However, the economy is predicted to remain relatively strong overall, and at this time, no recessions appear to be on the horizon.
The Right Place report
President and CEO of The Right Place, Birgit Klohs, shared updates on the West Michigan region's current economic development conditions and activities.
In 2018, The Right Place completed 28 economic development projects, exceeding its annual goal of 17 projects by 165 percent. Of those 28 completed projects, 75 percent of them were expansion and retention focused.
The majority of our work at The Right Place is focused on providing support to businesses that are already here. Our team completes more than 400 retention calls a year, and they're looking to ensure those businesses, your businesses, are receiving the assistance needed to continue growing.
Manufacturing industry growth remained strong in 2018, accounting for 14 of the 28 completed projects. However, signs of economic diversification were strongly evident when analyzing the jobs and capital investments recorded. Food processing, technology, medical devices, and other industries accounted for more than 1,500 new and retained jobs throughout the year.
2018 Project Breakdown
This year also marks the completion of the second year in The Right Place's 2017-2019 strategic plan. Already, The Right Place has exceeded two of its three goals, and has made strong progress on the third. The capital investment goal of $500 million has been exceeded by $42.2 million, and the payroll goal of $150 million has been exceeded by $11.7 million. The third goal of new and retained jobs is set at 4,000, and the organization has reached 3,534 with a full year left in the strategic plan.
The national economy
Director of Regional Economic Planning Services for the W.E. Upjohn Institute, Jim Robey, tackled the broader picture in regards to 2018, and what to look forward to in the coming year.
Early on, Robey discussed stock market reactivity to various events throughout the year, "The ride is only getting bumpier, but economic forecasts are based on fundamentals, not market reactions."
Supporting his statement, Robey reported that GDP is projected to remain solid, while the rate of employment growth will begin slowing as we move into 2019.
Currently, Robey says there is no immediate recession on the horizon, though overall growth will begin to taper off.
"Expansions don't get tired, rather, they end due to policy mistakes, which can lead us into a recession as a result of poor decisions made on a macro-level," said Robey, "These decisions can involve tax cuts and increases, federal deficits and debt, interest rate hikes, tariffs, and elections."
Robey also expressed concern regarding the federal deficit, "The deficit is poised to eclipse the national defense budget, and we'll soon spend more on interest than we do on defense."
West Michigan's economy
"Michigan, once again, continues to outperform expectations," said Robey.
On average, the West Michigan region touted an unemployment rate of 2.6 percent in August 2018, considerably below the national rate of unemployment, which sat at 3.5 percent. It also reported a labor force participation rate 5.6 percent above the national rate.
According to data from the Upjohn Institute, Grand Rapids is leading the state and the nation in post-recession recovery. In comparison to economically comparable metropolitans around the country, Grand Rapids MSA reported the lowest unemployment rate among its peers, and, despite the tight labor market, employment growth remained strong for the area.
What to watch for in 2019
Tariffs, trade agreements, and interest rate hikes are all factors to keep an eye on as we move into 2019, advises Robey. Tariffs are affecting businesses differently, and at this time, it's a "wait-and-see" situation, and rising interest rates have the potential to hurt the economy if the trend continues.
Klohs also presented on several challenges and opportunities facing the West Michigan in 2019. These include infrastructure, leadership changes in Lansing, trade and tariffs, automotive plant closures, and talent.
The nation has been facing a talent shortage for several years, and this shows no signs of abating. While the labor shortage is expected persist, we'll also see Industry 4.0 and increases in automation coming into play, especially for manufacturers. Companies are expected to do more with fewer people, and increase capital investments as a result. Hello West Michigan, a strategic partner of The Right Place, continues to work with our regional employers to address their talent needs.
Leadership changes in Lansing will affect the regional economy, but it's too early to know exactly what those changes will look like. As the new administration and legislature settle into their roles, a clearer picture should emerge in terms of economic development for the State of Michigan.
Infrastructure continues to remain a concern for the state. Without strong infrastructure, our companies cannot grow and compete as effectively. In particular, as Industry 4.0 takes hold, companies will become more reliant on broadband infrastructure. This critical piece of infrastructure is lacking in the nation, particularly in rural communities.
The big picture
2018 was another strong year for West Michigan's economy. We saw progress with regards to economic diversification, job growth, and increases in capital investment. Our team at The Right Place will continue supporting our communities and businesses to maintain a thriving region into 2019 and beyond.
Like always, we will face unique challenges in the year to come, and it is up to business and community leaders to address them in ways that are best for our region.
We look forward to continuing our work in West Michigan, and wish our area businesses continued success in the New Year.