December 17th, 2019
2020 Economic Outlook for West Michigan
In early December, more than 450 business and community leaders joined The Right Place for its 23rd Annual Economic Outlook for West Michigan. The 2020 Economic Outlook provided insights on regional, state, and national economic trends and projections, as well as current economic development conditions and activities.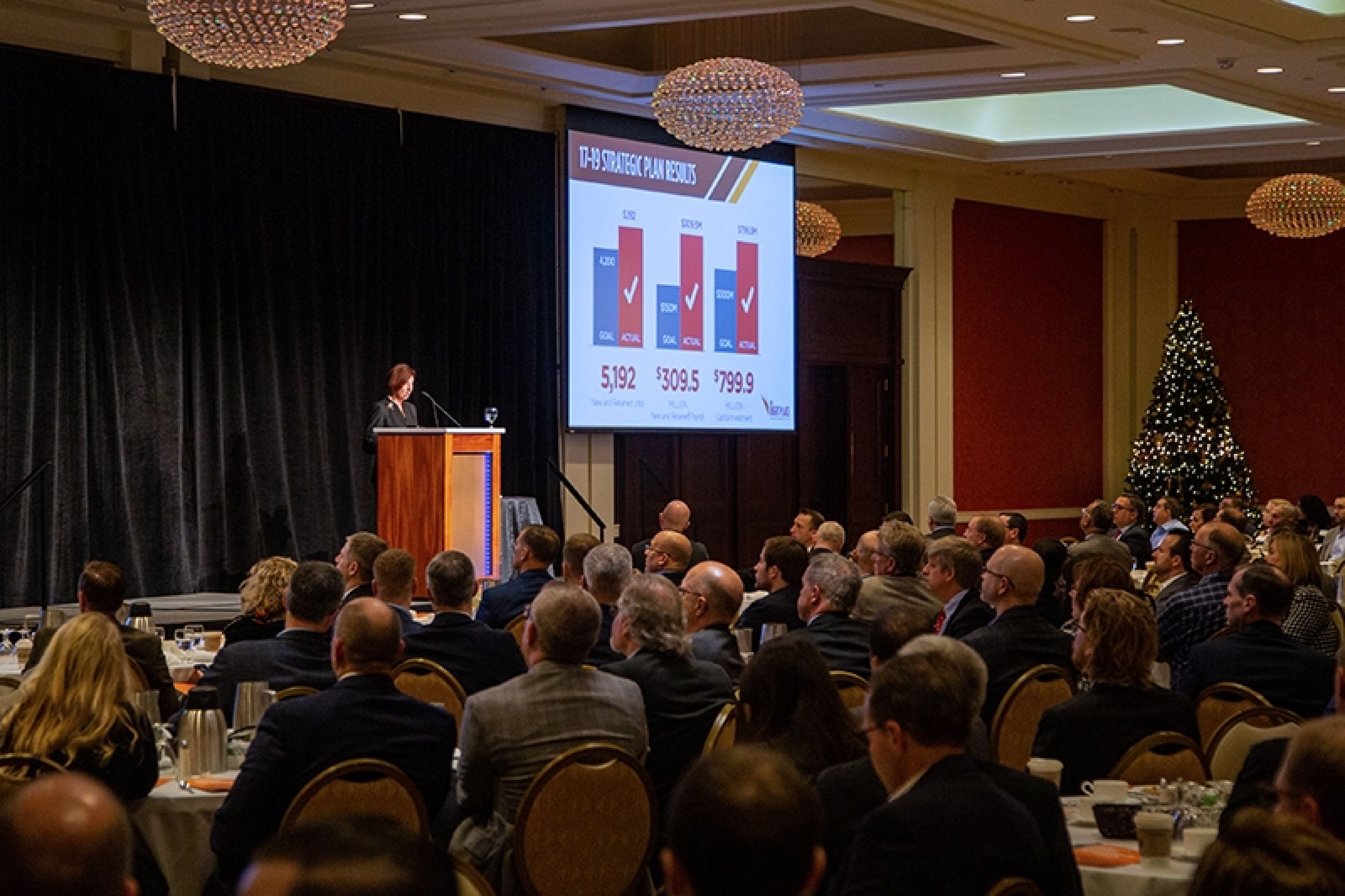 In early December, more than 450 business and community leaders joined The Right Place for its 23rd Annual Economic Outlook for West Michigan. The 2020 Economic Outlook provided insights on regional, state, and national economic trends and projections, as well as current economic development conditions and activities.
The 2020 Economic Outlook projected stable but slowing growth over the next two years, pinpointed areas that provide both challenges and opportunities for the West Michigan community and emphasized the importance of certainty in creating a strong economic environment for businesses.
Similar to the forecast provided at the 2019 Economic Outlook, economists expect the economy to remain relatively strong overall through 2020, with no recession on the horizon at this time.
The Right Place Report
President and CEO of The Right Place, Birgit Klohs, shared updates on the West Michigan region's current economic development conditions and activities.
In 2019 The Right Place team completed 21 economic development projects. These projects resulted in 1,597 new and retained jobs, $145 million in new and retained payroll, and more than $272 million in capital investment for the region. Only four of these projects were a result of the team's business attraction efforts, while the other 80% of projects involved the retention and expansion of West Michigan companies.
Advanced manufacturing had another strong year in terms of growth, accounting for 60% of completed projects in 2019. However, other significant projects like the new Allegiant Air base at the Gerald R. Ford International Airport (GRR) and the establishment of Acrisure's downtown headquarters were a large portion of the region's economic growth throughout the year.
2017-19 Strategic Plan Update
December also marks the end of The Right Place's three-year strategic plan, which began back in 2017. The team accomplished and significantly surpassed its metric goals for the plan period.
The capital investment goal of $500 million was exceeded by $332.5 million; the payroll goal of $150 million was exceeded by $159.9 million; the goal of 4,200 new and retained jobs was exceeded by 998 jobs.
On Wednesday, February 5, 2020, The Right Place will introduce its new three-year strategic plan at its first Investor Breakfast of the year, which will detail new metric goals and areas of focus for the team.

Challenges and Opportunities
While there are numerous global, national, state and local trends that affect the West Michigan economy, The Right Place has identified five in particular that it believes will have both short-term and long-term impacts on economic growth in West Michigan
Infrastructure
Without strong infrastructure, companies cannot grow and compete as effectively as they could otherwise. While the conditions of roads and bridges in the state are critical, other matters, such as wastewater processing constrictions or lack of broadband internet access, have the potential to be equally crippling to economic advancement potential.
Lack of broadband access, specifically in West Michigan's rural communities, puts both the businesses and residents in those areas at a disadvantage. There is a direct link between an area's connectivity and its economic growth, with broadband now being as vital as any utility, especially in the age of Industry 4.0.
Trade and Tariffs
Trade and tariff issues continue to affect West Michigan businesses, with the full impact of recent policies yet to be seen. Agriculture and automotive are two industries being affected the most in the region.
It is estimated that more than 50,000 jobs in West Michigan depend heavily on international trade and export activity. With more than 530 regional manufacturing and engineering firms supplying the automotive industry, 55,000 jobs have the potential to be affected at any given time by pressures or changes felt by original equipment manufacturers (OEMs). That uncertainty, Klohs said, is bad for businesses across the board.
Erosion of Local Ownership
Uncertainty is also swirling among local business owners who find themselves unsure of who will take over their companies as they begin nearing retirement age. Family-owned and operated businesses have always been a unique, key asset to West Michigan's economy, with 65% of jobs and an estimated $25.8 billion in the region coming from this sector.
Private equity firm acquisitions change the makeup of the community and the conversations had surrounding business retention and expansion, while also affecting the longevity of these companies in the region. It has become exceedingly important to find ways to preserve local ownership in West Michigan, as family-owned businesses are also more likely to be actively involved in their communities and be more philanthropic. Industry 4.0
The world is in the middle of a transformation regarding the way it produces products due to Industry 4.0. This new era of technology, powered by data and machine learning, will enhance production with smart and autonomous systems.
In order for West Michigan to remain competitive as a region, it is essential that business leaders are staying ahead of the curve when it comes to these advancements. The adoption of Industry 4.0 will be essential to the continued growth of the West Michigan economy.
Talent and Inclusion
Just like the rest of the country, talent has been one of West Michigan's leading issues for the past several years. Employers are clamoring to retain the talent they have, while also trying to fill much-needed open positions. Ultimately, population growth stimulates economic growth, and as it stands, the U.S. birth rate is now at 1.77, while the rate of replacement is at 2.1.
With the future of work undergoing a seismic shift, the ever-present skills gap is something businesses, individuals, and community stakeholders alike will need to come together to tackle in order to fill new and changing positions with qualified candidates. They will also need to ask of themselves, 'How can our region ensure we are a destination where talented people of all backgrounds want to live and work?'. There is no community in the country that can afford the consequences of leaving people behind any longer.
The National Economy
Director of Regional Economic Planning Services for the W.E. Upjohn Institute, Jim Robey, tackled the broader picture of what 2019 had in store for the national economy, and what could be expected in 2020.
The U.S. is in its longest period of expansion since World War II, spanning 125 months. The likelihood of a recession in the next 6 months is still relatively low, with Moody Analytics' prediction at a 9% chance.
Supporting this statement, Robey reported that GDP is forecasted to hover around a 1.7% growth rate for the next two years, while the rate of employment growth will continue slowing into 2020-21.
Additionally, national unemployment rates are expected to remain low for 2020/2021 at around 3.5% and 3.4%, respectively. This means hiring challenges will persist for businesses nationwide
West Michigan's Economy
By and large, Michigan has continued to outperform expectations.
The Grand Rapids Metropolitan Statistical Area (MSA), which includes Kent, Montcalm, Ottawa, and Barry Counties, has an unemployment rate of 3.0%. Unemployment rates in West Michigan's 13 counties fall between 2.3-4.7%, and the rate of unemployment for the state is at 4.1%.
Grand Rapids has also continued to outpace the state and the nation in post-recession recovery and employment growth, though rates for both are beginning to slow. Employment rates for Grand Rapids are forecasted to grow by 0.7% in 2020, a 0.3% decrease from growth rates seen in 2019.
As it pertained to West Michigan's strongest industries, such as advanced manufacturing and agribusiness, Robey echoed Klohs' earlier statements regarding the impact of trade and uncertainty on West Michigan's economy, addressing the United States–Mexico–Canada Agreement (USMCA) in particular.
"It is essential for Michigan's economy that USMCA is passed," said Robey, "Exports account for roughly $58 billion of Michigan's economy. Canada and Mexico are our largest trading partners, making up roughly two-thirds of our trade activity."
The Big Picture
2019 proved to be another excellent year for West Michigan's economy. Increases in job growth and capital investment continued to drive economic progress in the region, exceeding our team's goals here at The Right Place.
As we look to the next year and the roll-out of our 2020-22 Strategic Plan, we are excited to present our new goals and areas of focus, which we hope will ensure that West Michigan remains a globally competitive economy into 2020 and beyond.
As always, we will face unique challenges and opportunities along the way, but we are confident that the business and community leaders here in West Michigan will be able to guide our region in a positive direction.
As Klohs said in her closing remarks, "I have no doubt that if we identify a problem in this community, we will figure out how to tackle it, because that is what we do."
We look forward to continuing our work in West Michigan and wish all of our area businesses continued success in the New Year.