October 13th, 2023
$6.1M in Revitalization and Placemaking Program funds will support 17 West Michigan placemaking projects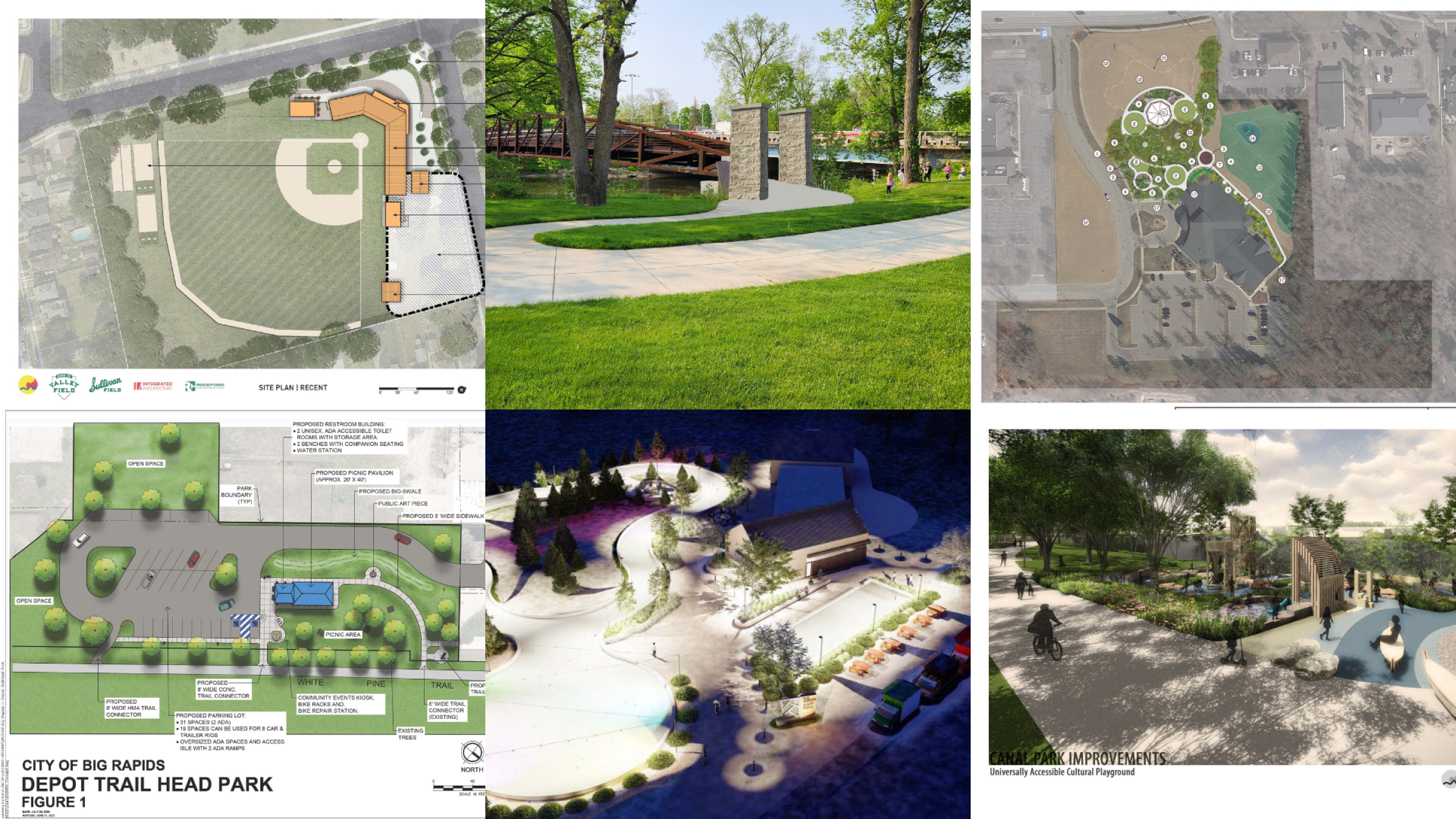 West Michigan economic development organizations Greater Muskegon Economic Development, Lakeshore Advantage, and The Right Place, Inc., in collaboration with the Michigan Economic Development Corporation (MEDC), announces that $6.1 million in funding from the Revitalization and Placemaking (RAP) Program will help spur the development of 17 placemaking projects totaling over $41 million across the region.
RAP is an incentive program that deployed $100 million in American Rescue Plan funding to address the COVID-19 impacts in Michigan communities. This recent distribution is the second round of funding available to the region. In 2022, the region received $3.6 million to support nine projects.
The 17 projects receiving funding:
Fennville Downtown Amphitheater City of Fennville, Allegan County $112,500
Mahan Park Improvement Project City of Allegan, Allegan County $160,000
City of Hastings DDA Streetscape City of Hastings, Barry County $474,500
Looking Glass River Plaza City of Portland, Ionia County $200,000
36th Street Marketplace City of Wyoming Kent County $450,000
Sullivan Field Restoration City of Grand Rapids, Kent County $680,000
Dwight Lydell Park Restoration Plainfield Township, Kent County $175,000
Cascade Library Outdoor Gardens Cascade Twp, Kent County $450,000
Improvements to Canal Park City of Grand Rapids, Kent County $750,000
Garden Club Park Phase II City of Rockford, Kent County $335,000
Thornapple River Pedestrian Bridge Ada Township, Kent County $425,000
Depot Trail Head Park City of Big Rapids, Mecosta County $450,000
Stone Hatchery Park Green Township, Mecosta County $54,000
West Colby Promenade City of Whitehall, Muskegon County $247,500
Vida Weaver Park Pavilion Village of Hesperia, Newaygo County $45,000
Shelby Community Park Shelby Township, Oceana County $112,500
Holland Community Ice Skating Park City of Holland, Ottawa County $800,000
"Collaboration with our regional partners has led to another successful advancement for our communities," said Marla Schneider, President of Greater Muskegon Economic Development. "As West Michigan continues to grow, the new developments in our communities are yet another testament to our unwavering commitment to the prosperity of our current and future citizens and businesses."
"This funding speaks to the power of collaboration in strengthening places and spaces across the West Michigan region," said Jennifer Owens, President of Lakeshore Advantage. "Vibrant city spaces are a crucial component to attracting and retaining the people who live and work here, and who keep our economy strong."
"Placemaking and community development is economic development, said Tim Mroz, Senior Vice President of Community Development at The Right Place, Inc. "That's why The Right Place is so committed to this work. The communities included in this RAP grant get it. They understand that tomorrow's growing, vibrant communities are investing in placemaking today. Those actions will pay dividends for decades to come."
A collaborative team from The Right Place, Lakeshore Advantage, and Greater Muskegon Economic Development led the application process for the West Michigan communities applying for funds. Applications were due in June. All recipients were notified earlier this week. The project team solicited potential projects from a 13-county area. The organizations received 41 regional placemaking applications from 11 counties, totaling over $91 million. An internal team then evaluated all applications, scoring each one according to the priorities set forth by the MEDC. In the end, 17 placemaking projects were selected from 9 different counties with new, innovative ideas to reactivate lost, underutilized, or vacant spaces.
The RAP program provides access to real estate and place-based infrastructure development gap financing through grants of up to $5 million per project for real estate rehabilitation and development, grants of up to $1 million per project for public space improvements, and grants of up to $20 million to local or regional partners who develop a coordinated subgrant program.
Eligible applicants were individuals or entities working to rehabilitate vacant, underutilized, blighted, and historic structures and the development of permanent place-based infrastructure associated with traditional downtowns, social zones, outdoor dining, and placed-based public spaces. The RAP program awarded funding to eligible applicants based on one or more competitive application rounds.