October 16th, 2023
Relive Tech Week 2023
This year presented nearly 40 different events from more than 45 community partners.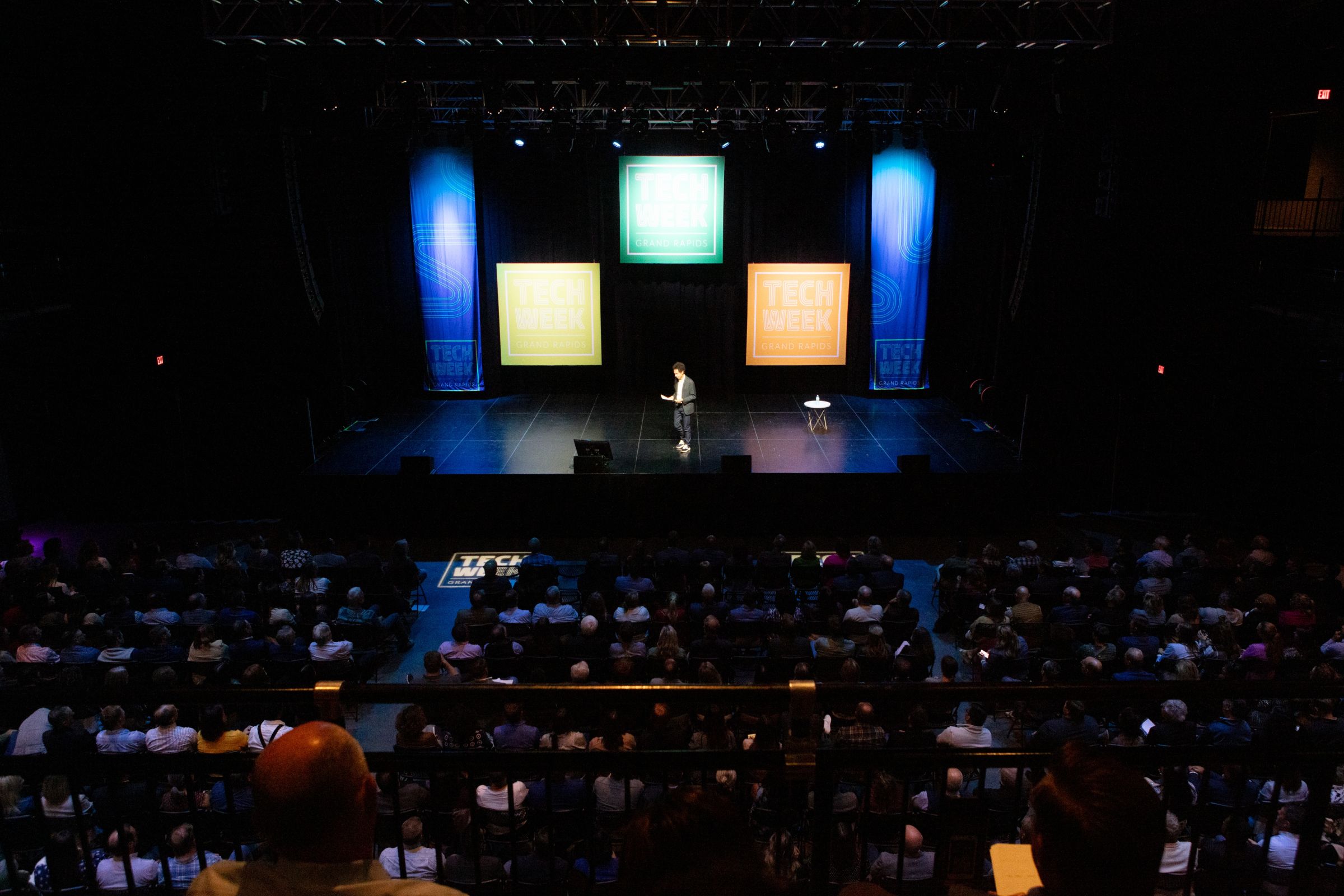 Tech Week Grand Rapids 2023
At The Right Place, one of our biggest goals that we actively strive to reach is to turn Greater Grand Rapids into a leading tech hub in the Midwest. Last year, we released a 10-year tech strategy to help us reach this goal. A key part of this strategy is to create an event meant to showcase our vibrant tech community. This is how Tech Week Grand Rapids came to be! Last month, September 18-24, we hosted our second annual #TechWeekGR.
What is Tech Week Grand Rapids?
Tech Week Grand Rapids is designed to showcase our region's vibrant tech community. Whether it is hands-on tech exhibits, panel discussions, pitch competitions, networking opportunities, and more, we ensure there is something for everyone. The beauty of Tech Week Grand Rapids is that it is structured as an "unconference" with events being hosted by multiple companies across the region. Attendees can create a custom schedule of their choice.
This year, we had an incredible week full of exciting conversations and events. One of them was the Kick-Off Event with Malcolm Gladwell, which was our largest event to date with about 1,100 attendees! Over the course of the 6-day schedule, Tech Week GR brought in over 13,000 people. total.
To further put this number into perspective, our first Tech Week last year had seven events and 12 community partners, while this year presented nearly 40 different events from more than 45 community partners! Having a wide variety of events brought in people of all demographics since many were free and accessible to the entire community.
Below are some highlights from a few of our pillar events of the week.
Kick-Off Event Feat. Malcolm Gladwell
The Kick-Off event that jumpstarted Tech Week GR 2023 had remarkable attendance and contagious energy from the audience. Guests came to hear Malcolm Gladwell's keynote about Greater Grand Rapids' journey to becoming a tech hub, comparing it to how the founder of Silicon Valley chose to start his company there because it was close to his mom and the community he loved. We are lucky that Grand Rapids has that advantage—it's a community where people want to be. Malcolm's speech was truly engaging and customized to the Greater Grand Rapids region – you can listen to his remarks on Spotify.
Tech Showcase
One of the main reasons we decided to launch Tech Week Grand Rapids was to expose the community to the up-and-coming technology in our region. For the Tech Showcase, we invited the next generation of young professionals, 6th to 8th graders, from various schools around the area. We had an all-day event where students got a chance to meet and participate with 13 organizations and the unique technology they brought. The showcase was positioned directly in our Tech Hub that was inside of the Grand Rapids Art Museum and 500 students participated!
The students got to experiment with VR headsets, robots, manmade wind tunnels, circuit building, podcast filming, and so much more. This event gave students a glimpse into what their futures could hold and what careers they could pursue.
Demo Day
Demo Day is one of the most exciting business competitions of the year. This event gave aspiring entrepreneurs a chance to win $20,000 to bring their dreams to life and beyond. It was open to the public, held in Calder Plaza, and invited the community to check out all the incredible business ideas these entrepreneurs came up with.
There were all sorts of food, services, products, and more for people to try and ultimately vote as their favorite for the People's Choice award. The 3-hour long event ended with more than 2,000 attendees, 10 different business ideas being awarded the grand prize of $20,000 each, and a massive celebration.
Confluence Festival
To finish off Tech Week Grand Rapids, there was a two-day festival where Friday involved a music summit with DJ sets, live music concerts, and a keynote address from Ari Herstand. Saturday had an innovation showcase, maker expo, robotics expo, open art, and so much more. Over the course of the two days, 6,500 people attended to immerse themselves in the worlds of art, music, science, and tech.
Save the Date for Tech Week Grand Rapids 2024
With such an incredible community response for Tech Week Grand Rapids 2023, we are eager to start planning an even bigger and better Tech Week GR 2024. Make sure to save the date for the week of September 16, 2024, because you won't want to miss it.
Visit techweekgr.com and sign up for our mailing list to receive updates on next year's event.
If you're interested in participating in Tech Week 2024, please reach out to Andria Romkema at romkemaa@rightplace.org.