September 7th, 2022
The Right Place, Inc. distributes $3.6M in Revitalization and Placemaking Program funding for 9 regional placemaking projects
The Right Place will receive $3.6M in funding from the Revitalization and Placemaking (RAP) Program to help spur the development of 9 placemaking projects totaling over $10 million across the region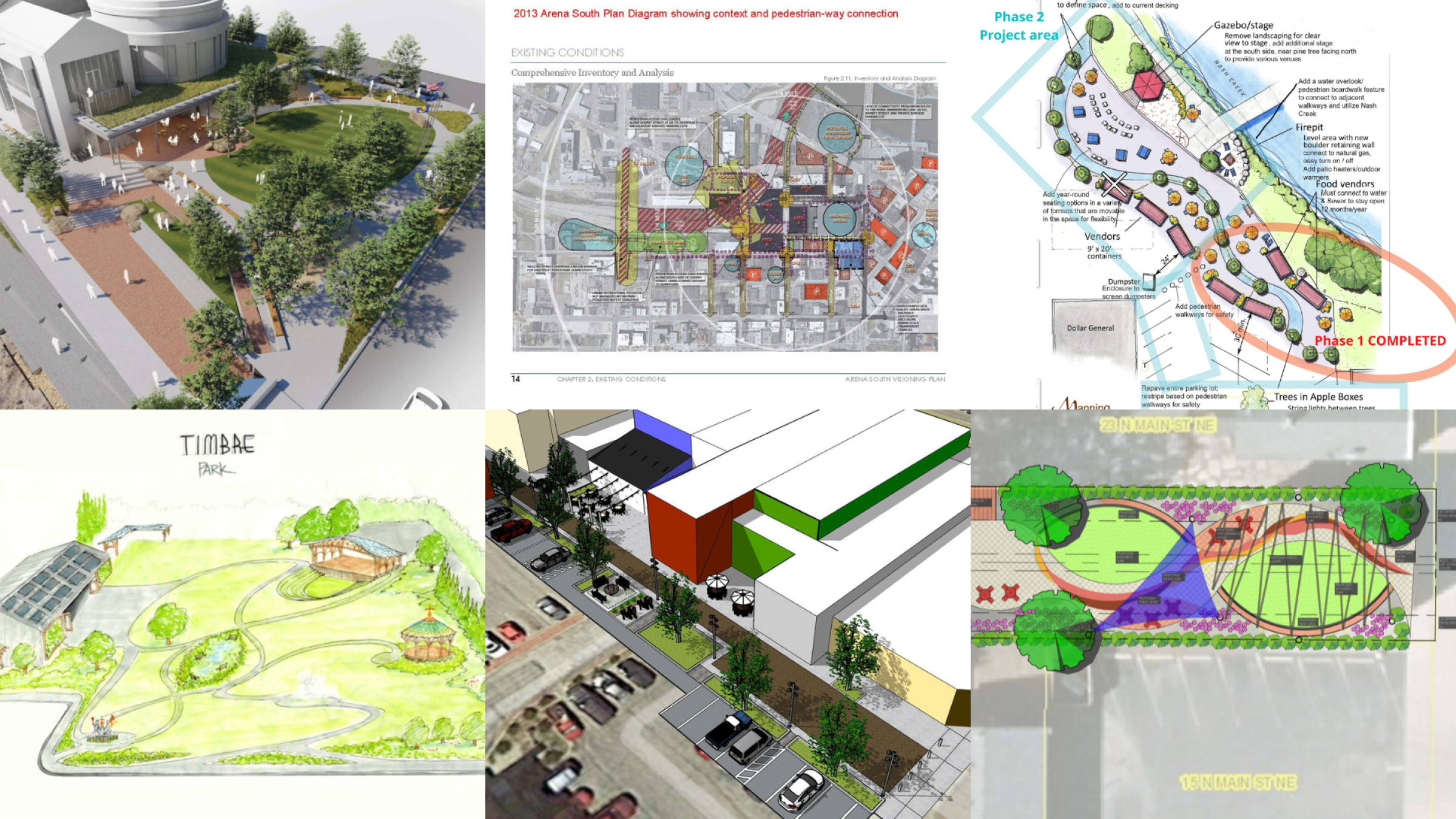 Today The Right Place, Inc., in collaboration with the Michigan Economic Development Corporation (MEDC) announced that The Right Place will receive $3.6 million in funding from the Revitalization and Placemaking (RAP) Program to help spur the development of 9 placemaking projects totaling over $10 million across the region. The funds were approved today in Lansing at a special Michigan Strategic Fund meeting.
RAP is an incentive program that deployed $100 million in American Rescue Plan funding to address the COVID-19 impacts in Michigan communities.
The projects receiving funding:
Middleville Amphitheater Activation & Art Walk Village of Middleville (Barry) - $21,250
Cedar Springs Downtown Pocket Park City of Cedar Springs (Kent) - $212,500
Grand Rapids Public Museum North Lawn Park City of Grand Rapids (Kent) - $800,000
Eastown Public Art & Safety Project City of Grand Rapids (Kent) - $8,500
Heartside Linear Plaza City of Grand Rapids (Kent) - $800,000
Sparta Town Square: Phase 2 Village of Sparta (Kent) - $363,375
Scottville Optimist Park & Sculpture Project City of Scottville (Mason) - $179,704
100 South City of Ludington (Mason) - $500,863
Getty Park Renovation Village of Shelby (Oceana) - $552,500
Total Grant Award Amount for 9 Projects: $3,438,691
Tim Mroz, Senior Vice President of Community Development at The Right Place, led the application process on behalf of the West Michigan communities applying for funds. Applications were due in June. The Right Place is working with MEDC to coordinate disbursement of the funds to the grantees.
"We are eager to assist these projects with this RAP funding and excited to see the outcomes from these placemaking initiatives," said Mroz. "This $3 million in funding will spur more than $10 million in placemaking project investments. We must continue to invest in bold place-making initiatives like these, that provide an incredible quality of life for Michiganders, while also serving as a magnet to retain and attract new talented people to the region. "
Working alongside its regional and municipal partners throughout West Michigan, The Right Place solicited potential projects from a 13-county area. In total, the organization received 28 regional placemaking applications from 7 counties, totaling over $30 million. An internal team then evaluated all 28 applications, scoring each one in accordance with the priorities set forth by the MEDC. In the end, 9 placemaking projects were selected from 4 different counties with new, innovative ideas to reactivate lost, underutilized, or vacant spaces.
The RAP program provides access to real estate and place-based infrastructure development gap financing through grants of up to $5 million per project for real estate rehabilitation and development, grants of up to $1 million per project for public space improvements and grants of up to $20 million to local or regional partners who develop a coordinated subgrant program.
Eligible applicants were individuals or entities working to rehabilitate vacant, underutilized, blighted, and historic structures and the development of permanent place-based infrastructure associated with traditional downtowns, social-zones, outdoor dining and placed-based public spaces. The RAP program awarded funding to eligible applicants based on one or more competitive application rounds.
A recent study published in the Economic Development Journal, "How COVID-19 Reshaped the Battle for Talent," centered on a national survey of more than 1,000 working-age people who moved during the first year of the pandemic. The primary trigger causing people to move was Quality of Life. And when the researchers explored the respondent's definition of Quality of Life, Outdoor Recreation was second only to Good Schools as the most important lifestyle factors. This idea was the driving force behind The Right Place's regional subgrant application, ""Reactivating Spaces – Reactivating underutilized and vacant community spaces."
"Every community has underutilized, vacant, or abandoned spaces in need of reactivation," Mroz adds. "The concept behind this grant project is to proactively re-engage those spaces in communities the forgotten corridors, the sorely underutilized downtown areas, even community parks that have been overlooked for years. It's time to breathe new post-COVID life into these spaces, creating public outdoor destinations and enhancing a community's sense of place."
Project Overviews
01: "Middleville Amphitheater Activation & Art Walk" – (Village of Middleville, Barry County)
The Village of Middleville will reactivate a downtown gathering space by adding enhanced seating to an amphitheater and public art. The project will add tiered seating layers to an outdoor amphitheater, enhancing the area for performing arts, and add an "art walk" along the river trail with murals and interactive sculptures/art pieces. Adding amenities like this will enhance the safety and accessibility of this outdoor venue where people can be together but socially distanced in the open air.
02: "17 North Main Street" – (City of Cedar Springs, Kent County)
The City of Cedar Springs will activate an unbuildable empty lot on Main St. into an area for outdoor picnicking, art display, outdoor gas firepit, socializing, food truck parking, social district, pop-up retail and relaxation for public use. The local population has really started to take advantage of outdoor space more since the pandemic and its perceived increase in health safety. Local restaurants are eager to see more outdoor dining options but are constrained by the traditional zero-setback lots in the downtown area. This project not only activates and unutilized downtown space but provides new business opportunities for nearby restaurants.
03: "Grand Rapids Public Museum North Lawn Park" – (City of Grand Rapids, Kent County)
The Grand Rapids Public Museum will redevelop and reprogram an underutilized area of the museum's outdoor lawn. The organization is planning a new downtown public outdoor space which will function as a multigenerational gathering environment overlooking the Grand River. The city's outdoor spaces have experienced increased activation during the pandemic. The north lawn will be redesigned to include artifact displays, outdoor seating, and a connection to the riverfront trail.
04: "Eastown Public Art & Safety Project" – (City of Grand Rapids, Kent County)
Uptown GR will add lighting, public art, and planters to reactivate an underutilized and often vandalized alleyway in the Eastown area of Grand Rapids. The pandemic brought record crime and "after-hour" disturbances to the Eastown business district. A CPTED study conducted by the City of GR in partnership with Uptown, the ECA, and EBA identified a number of public improvements (lighting, alley improvements, and public art) that would make the district less attractive to unwanted behavior and support a more safe and vibrant neighborhood. The community reached to Uptown GR with an understanding that positive physical improvements to the district would elicit pride and eliminate areas that welcome negative behavior.
05: "Heartside Linear Plaza" – (City of Grand Rapids, Kent County)
Downtown Grand Rapids, Inc. will convert a severally underutilized alley into a pedestrian linear plaza with outdoor cafe seating, landscaping, trees, and enhanced lighting. The new linear plaza will connect Downtown to the Studio Park Piazza and support outdoor seating for Ionia Avenue restaurants. In Downtown Grand Rapids' Heartside Neighborhood, the Ionia Avenue businesses did not have adequate sidewalk space to effectively add outdoor seating during the pandemic. This Van Andel Alley project is currently being designed to seamlessly continue the new plaza around the corner - physically and visually extending it to Studio Park. The linear plaza will support adjacent businesses, office workers, and residents while also attracting Downtown visitors - all of which contribute to the tax base.
06: "Sparta Town Square: Phase 2" – (Village of Sparta, Kent County)
The Village of Sparta's Town Square began during the pandemic in 2020 as a private/public partnership to encourage new retail and food-based businesses to try the market in Sparta. The previously underutilized parking lot now hosts 4 new retail incubators as phase 1 is now complete. The second phase of the project would include additional public space improvements to the Town Square including pedestrian safety elements such as cross walks, bike racks, outdoor winter fire pits and amenities to make the space pedestrian friendly, adding a board walk over the creek, and additional opportunities for vendors / makers market / food truck events to take place in the Town Square with upgrades to the space.
07: "Scottville Optimist Park & Sculpture Project" – (City of Scottville, Mason County)
The City of Scottville and the Scottville Downtown Development Authority are developing The Scottville Optimist Park & Sculpture project. Prior to covid, the bandshell on this property hosted various events like movies in the park, live music by local musicians, most notably the famous Scottville Clown Band. Unfortunately, Downtown Scottville has limited green spaces downtown, and this park area has always served as a central gathering place for the community. Its proximity to the businesses on Main Street, will bring crucial mass to the downtown area to patron businesses, allow for the community to hold new events, and has the potential to spur additional investment in downtown. As well liked as this park area is, it is undersized to offer safe social distancing and in dire need of repair. Creating this venue and space will provide a point of pride for the residents of Scottville and the surrounding area. It will attract visitors to our town and will help stimulate new economic growth for the downtown and surrounding area.
08: "100 South" – (City of Ludington, Mason County)
The City of Ludington and the Ludington Downtown Development Authority plans to permanently improve a vacant alleyway that was temporarily converted during the COVID-19 pandemic. During covid, the alleyway became a seating area for take-out and outdoor dining. It was closed to vehicular traffic and became much more pedestrian friendly. This project will make the space permanently pedestrian friendly and it close to vehicular traffic, making is safer for the public to access businesses. It will also have safe, socially distanced seating areas for use by patrons of local eateries to enjoy. The project will also utilize green infrastructure in its design.
09: "Getty Park Renovation" – (Village of Shelby, Oceana County)
The Village of Shelby plans to completely renovate Getty Park, a forgotten and underutilized public space desperately needed during the COVID-19 pandemic. The revitalized park will have a universal designed playground, splash pad, basketball court, pickleball courts, tennis court, bathroom/pavilion with a fire feature, and a gazebo/bandshell. The last time Getty Park was improved was in 1992, and the park has been underutilized since the late 1990's. The park renovation will provide benefits such as increased property values, wellness & health, providing a community asset for expanding the seasonal programming of Getty Park, a local destination for families to participate in leisure activities benefitting the family structure, and vastly improving the accessibility to recreational amenities for all through the incorporation of accessible and universal design in all the park amenities.