May 2nd, 2023
Top Five Things Learned at the Career Readiness Conference
The Career Readiness Conference: Collaborate to Educate, recently held in West Michigan, brought together 112 leaders and decision-makers in education and manufacturing to discuss the ongoing challenges the talent shortage brings and the importance of building career pathways between K-12 education systems and manufacturing companies.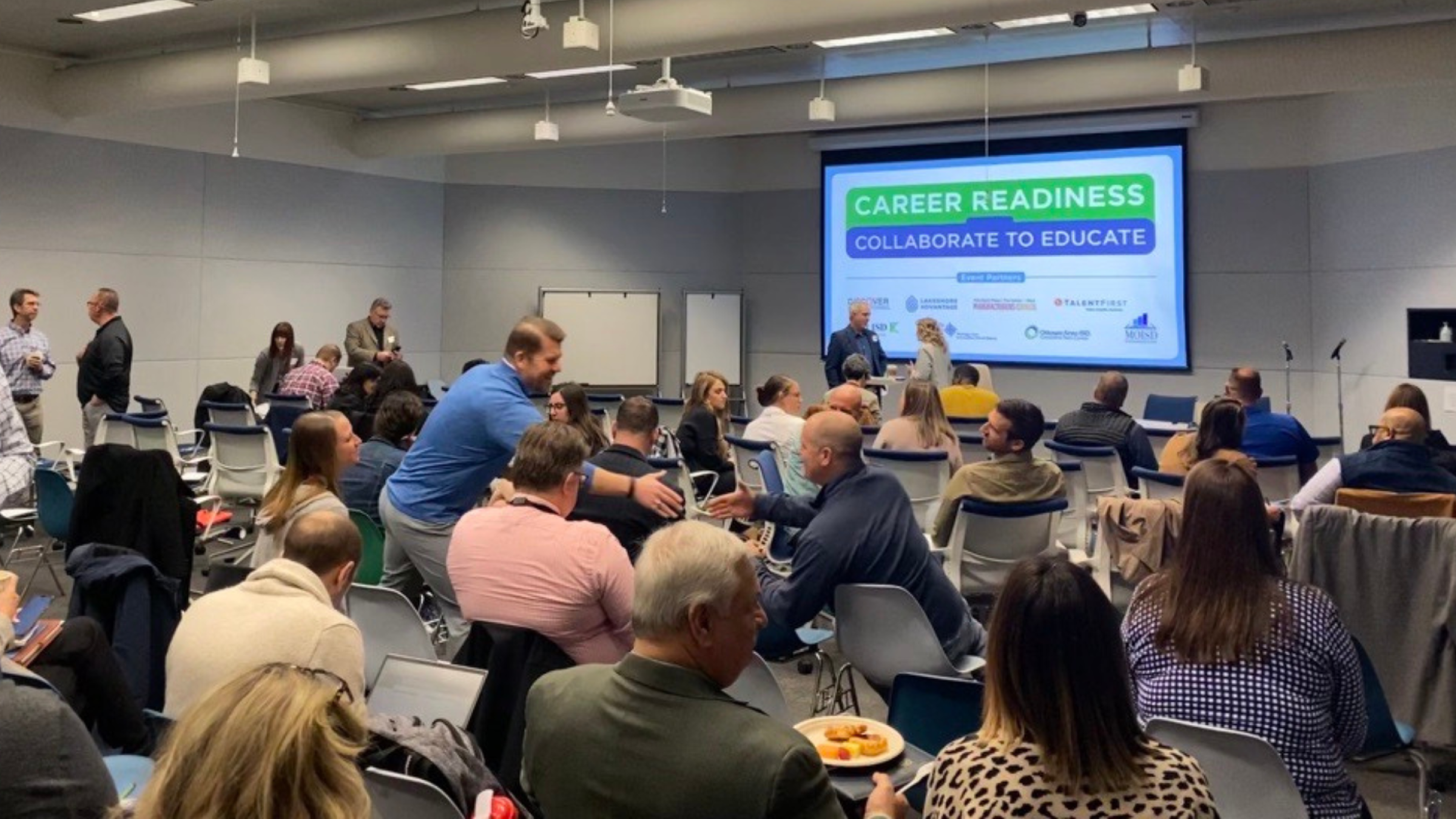 With decreasing birth rates, increasing retirement numbers, and a lack of specialized education, the talent pool is shrinking, and the manufacturing industry is seeing these challenges firsthand.
The Career Readiness Conference: Collaborate to Educate, recently held in West Michigan, brought together 112 leaders and decision-makers in education and manufacturing to discuss the ongoing challenges the talent shortage brings and the importance of building career pathways between K-12 education systems and manufacturing companies.
With partners from Discover Manufacturing, Lakeshore Advantage, The Right Place Manufacturers Council, TalentFirst, KentISD, Muskegon Area ISD, Ottawa Area ISD, and Mecosta-Osceola ISD - this was the first time that an event of this kind was organized, highlighting the shared interest that educators and manufacturers have in the development of the community.
Kicking off the day was Denise Cowburn, Mark Thomas, Joe Mazzeo, Ryan Pohl, and Tom Watson discussing best practices that support manufacturing talent challenges including talent sourcing, retention, and leadership engagement.
Then our lunchtime keynote, Tom DeVries, sat down with a panel of students to hear about their experiences and expectations on entering the workforce after high school.
The day ended with collaborative breakout sessions from Kyle Fiebig, Ryan Graham, Laura Preuss, Ginger Rohwer, and Nancy Manglos, that offered specific, actionable strategies that educators and businesses could implement to help students.
Here are the top five things we learned at the Career Readiness: Collaborate to Educate Conference.
1. Students feel pressured to attend college by their family and peers
During the lunch keynote session, a prominent theme emerged among the high school student panel: they often feel pressure to attend college or university, primarily from parents, family, and peers. Parents and families believe the societal expectation that in order to be successful and financially stable, a college degree is necessary. In addition, the student panel reported that they felt pressured by the excessive number of social media posts from their peers, which include announcements of college acceptances, scholarship opportunities, and videos of them finding out they were admitted to their dream schools. Students are often told that their only pathways after graduation are college, the military, and the workforce – with the workforce being the one looked down upon the most. It is essential for students to consider their own goals and interests before considering their future career pathway, and it is imperative that families understand that students can find success without a college degree.
2. Lack of mechanical confidence has increased over the years
Ryan Pohl from Praeco Skills and David Pridmore from RoMan Manufacturing noted in their presentation "Crafting a Workforce Development Strategy" that there is an overall lack of mechanical confidence with many families and individuals today. Many people growing up remember that if their washing machine or toaster broke, they wouldn't get rid of it and buy a new one. They would grab the tools, sit down, and try to fix it. If you think back to what your neighborhood may have looked like 20 years ago, there were probably multiple people out in their driveways working on cars. You see that less and less now. We need to work on restoring mechanical confidence, starting with our kids in K-12, and going all the way up to the younger folks entering the workforce. We need to incorporate mechanical skills into our curriculum, including problem-solving capabilities, teamwork & collaboration, communication skills, creativity, and tech skills. By emphasizing the need for mechanical skills in education, it will help individuals recognize the value of trade work and encourage them to pursue it as a viable and respectable career path.
3. Meet young people where they are at
A key message that popped up in a few of the presentations throughout the day was for companies to try to meet young people where they are at. In Denise Cowburn's presentation, she noted that the number one myth she hears from most companies is, "Younger generations have no work ethic." In reality, they have a "self-centered" work ethic. Younger generations are dedicated to completing their tasks and work duties but have not been raised in a way that demands them to look around and see what should be done next. With that, companies need to be open-minded and think of new ways to train, develop, and retain this talent.
4. Culture is key
When it comes to talent, every company's goal should be to be the employer of choice. As seen in the photo below from Denise Cowburn's presentation, "Organizational culture eats strategy for breakfast, lunch, and dinner." According to the "Building Pathways for Skilled Trades Careers" presentation from Joe Mazzeo and Mike Fallon, younger folks entering the workforce are looking for flexible jobs with a "greater purpose" that makes them feel like they are making a difference.
What are the perks that are part of an organization's culture that helps retain staff? Denise has 5 words to help narrow it down: Fun, Family, Friends, Food, and Flexible. They want a fun work environment where they feel like their coworkers could be friends and family. Who doesn't love free food? And having flexibility is a key factor in contributing to a positive workplace culture. Other great perks that are great to consider with recruiting and retaining include pet insurance, buy vacation, sabbatical, unlimited PTO, updated bathroom and break areas, and stay interviews.
Overall, employees want to feel valued so focus on ways you can make them feel valued.
5.Get involved and start YOUNG
One thing that was brought up time and time again during the Career Readiness Conference was that we need to get more involved in attracting future talent by getting involved earlier on in the K-12 pipeline. Ginger Rohwer from MiSTEM Network and Nancy Manglos from the Grand Haven, Spring Lake, Ferrysburg area Chamber of Commerce discussed multiple project-based programs in our area. One of those being Homegrown, a program developed by Grand Haven Area Public Schools in partnership with the chamber that brings design thinking and project-based learning to students by pairing elementary school classrooms with local businesses to solve actual design challenges. This program was able to highlight in-demand STEM careers throughout the local community and taught both students and teachers about the changing nature of the manufacturing industry. They also would have a showcase event, which took place at the business and included families so that parents learned what the world of manufacturing looks like today.
Aside from the amazing project-based programs highlighted by Ginger and Nancy, we also heard more amazing suggestions for how manufacturers could get involved with local school systems from Joe Mazzeo and Mike Fallon's presentation, as well as the afternoon breakout session with Ryan Graham from Kent ISD and Laura Preuss from DeWys Manufacturing. Manufacturers can arrange to be guest speakers either in-person or via Zoom in the classroom. They can also help students with employability skills in the classroom, such as mock interviews, resume coaching & reviewing, and helping with presentations.
Manufacturers can also participate in high school career days, sponsor robotics teams, sponsor outings to different manufacturing and trade shows for students and open their plants for field trips and community tours.
Becoming more involved with students at a younger age showcases the great opportunities that the manufacturing industry provides, informs both students and parents of the opportunities out there, and can also be a great morale boost for many company cultures.
Let's Connect
The Career Readiness Conference was a great opportunity to get both educators and manufacturers in the room and talk about how we can partner together to help the students of our community. It is clear that we have a lot of work to be done in this space, but we are excited to get the ball rolling.
If you are an educator or manufacturer and are interested in connecting, please reach out to us at bookerr@rightplace.org.