October 5th, 2023
Why you should attend the Manufacturing Leadership Summit
We are currently advancing through the fourth industrial revolution while manufacturing is continuing to change.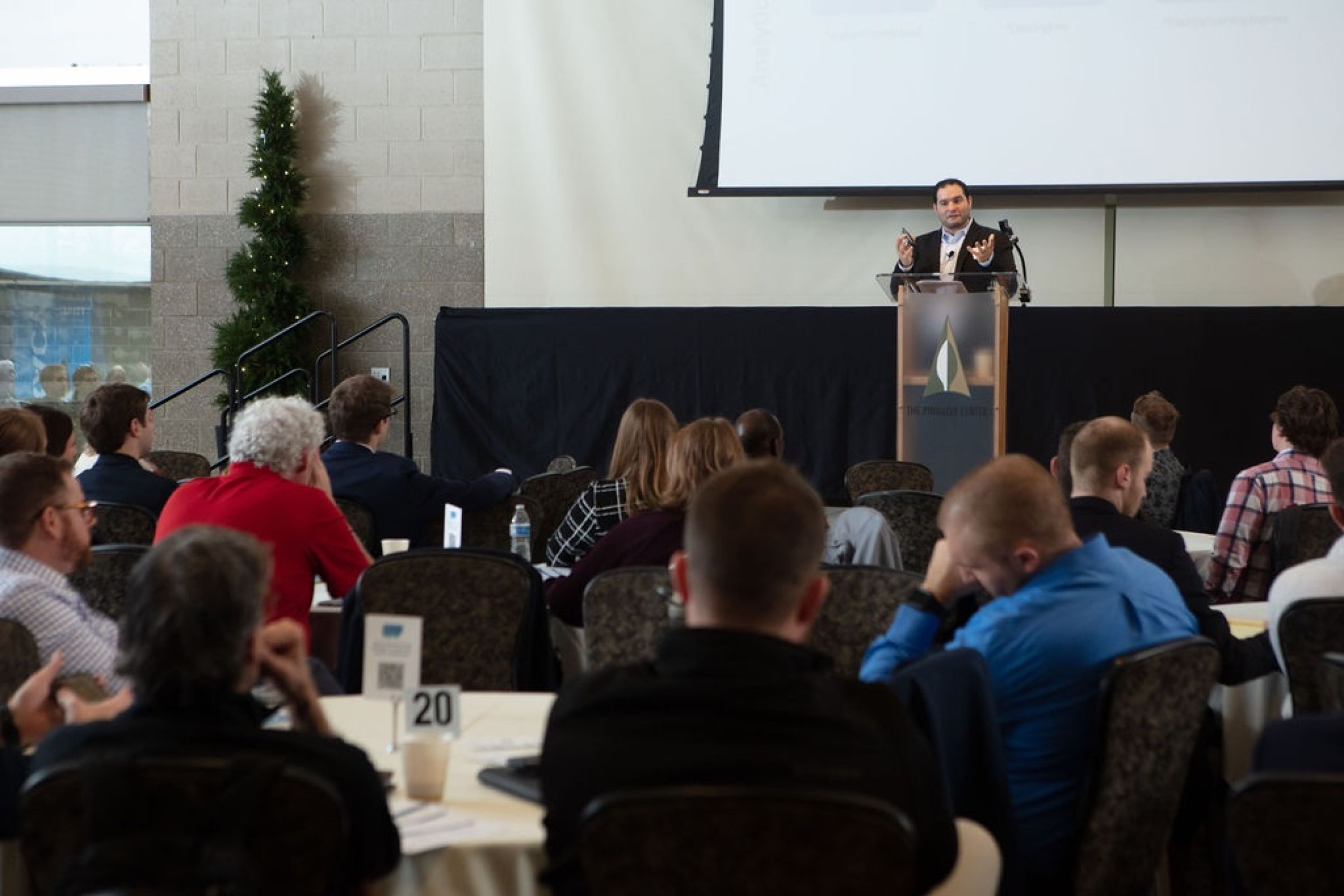 We are currently advancing through the fourth industrial revolution while manufacturing is continuing to change. The Greater Grand Rapids region is home to one of the nation's largest and most diverse manufacturing sectors. We are national leaders in plastic, biopharmaceuticals, medical devices, production technology, automotive, office furniture, aerospace, and more. Because of this, we have access to some of the most talented minds in the field.
Join us on November 8th at the Manufacturing Leadership Summit to hear these industry leaders discuss the future of our work and its digital transformation. Not sure if you should attend? Here are the event conversations broken down to help you find what you're interested in.
Workforce Transformation: How AI is Impacting the Way We Work
Artificial Intelligence may seem foreign or intimidating as it continues to grow in popularity. Employees are worried about robots taking over their jobs, but this discussion can help alleviate any concerns as AI can be used as a tool, not a replacement. Jason Kuipers, Connor Gould, and Jordan Poortenga will explore practical cases for AI and automation specific to manufacturing. They will delve into ways to unlock the power of data-driven decision-making and gain valuable insights into applications for your business. This way, companies can discover ways to improve efficiency, reduce errors, and build for scale.
Pronouns, Politics, and Purpose – Navigating the Contemporary Workplace
Out of respect, fear, or genuine confusion, many managers and leaders these days tiptoe around potentially contentious issues. Am I bound to respect any and all pronouns? Are all DEI initiatives an unqualified good? If an employee refuses to work with a particular client or other staff member on moral or political grounds, can I accommodate that? In this talk and subsequent discussion with Michael DeWilde from GVSU, we'll look at some of the current thinking on these and other, related, questions.
Demystifying Artificial Intelligence (AI): Exploring its Potential and Limitations in Real-World App
In less than a year, the AI tool ChatGPT has become a topic of conversation across industries and a media buzzword that has taken news outlets and social platforms by storm. We've heard the hype. ChatGPT is able to converse like a human, create novel content, answer questions about virtually anything, and even write its own code. But what is it really? How can it be applied to real-world applications and what are its limitations? Join Cheryl Wilson, Computer Science Consultant at the Michigan Department of Education, for an interactive discussion as she answers all of these questions and more about AI.
Attract & Retain to Sustain Manufacturing
In the ever-changing landscape of workforce development, companies need to implement best practices in their attraction and retention strategies to become an employer of choice. Denise Cowburn, Senior Corporate Client Executive at ToolingU-SME will cover current trends in attraction and retention as well as recent retention reports that make a compelling business case for learning and development in your multigenerational workforce. She will discuss best practices in onboarding and on-the-job training that can directly make an impact on your retention rates and keep employees engaged.
Cybercrime from the FBI Perspective
Phishing, ransomware, and data breaches are all examples of cyberthreats and as technology keeps advancing the potentiality of cybercrime grows with it. People are often recipients of cybercrime attempts and may fall victim to a cybercriminal's attack. Special Agent Tom Peller, FBI, will discuss how he investigates cybercrime and will share various recent trends and threats to the West Michigan region.
Thinking Beyond Sustainability: Can a supply chain give back more than it takes?
Fernando Ramirez and Justin Beitzel from Common Object Studio plan to introduce Okaterra, a visionary project focused on reshaping supply chains that go beyond sustainability. In this discussion, they will explore Okaterra's collaborations with wool farmers, hemp producers, and urban lumber sources, all aimed at building a more resilient circular economy. Okaterra represents a bold experiment in regenerative design, providing insight into their process and posing the question: Can a supply chain give back more than it takes?
Don't Miss Out!
By attending our Manufacturing Leadership Summit, you can stay informed and plan out next steps to ensure your company is ready for the future. Register now to reserve your seat and share with your colleagues and network so we can all prepare for what lies ahead.