December 5th, 2022
How recent workplace trends can lead to new opportunities for West Michigan tech companies
As we push towards the end of the year, I think it's a good time to reflect on workplace trends we are seeing, and how might the challenges of 2022 bring West Michigan new opportunities for growth in 2023?
Written by Jen Wangler, Vice President of Technology
As we push towards the end of the year, I think it's a good time to reflect on workplace trends we are seeing, and how might the challenges of 2022 bring West Michigan new opportunities for growth in 2023?
Freelance
Many business leaders are grappling with increasing individualism in the workforce and a shift in attitude around work and money. People are leaving the 9-5 job to become full-time freelancers, and in some cases holding multiple full-time jobs.
I recently had coffee with a local tech CEO who spoke about one of his remote staff holding down two full time jobs. Stanford researchers found that after employees work 50 hours or more, their output falls dramatically. It nearly plummets after 55 hours. This is forcing employers to be creative in incentivizing workers to come back to the office at least on a part-time basis.
Another recent Forbes article states:
Two thirds of freelancers are satisfied with their career, work-life balance, and compensation. 40% of full-time employees in the US have a side-gig. 90% plus of corporate leaders in a recent global survey said they utilize freelancers and say they will increase their reliance. During the current recessionary period, almost 80% of employers say they are increasing their use of freelancers as they suspend full-time hires.
I can remember pitching the idea of remote work to my boss back in the early 90's, as a young mom with no childcare and hungry to make it in the world, it was a creative alternative that allowed me to raise my family and stay in it. COVID didn't create the freelance movement, it validated a work and culture change that some say is ahead of schedule. "Freelancing and the Gig-economy aren't new ideas," says Chris Koens, President of FlexTal.com. FlexTal, matches deeply vetted freelance talent with company jobs that match their desires and needs and provide flexibility to both sides of the equation.
"There is a radical shift taking place in how people want to work, forcing a change in how companies hire Talent. People want flexibility. COVID showed the global talent pool that they could work from home, eliminate their commute, and have more time for family or themselves," continues Koens. "The Talent wants to retain that flexibility and do more of what they love - less of what they hate. As a result, employers are looking to hire Talent faster with more flexibility in work hours, location, and salary, including sharing the expense of quality talent with other organizations by fractionalizing portions of their employee rosters using remote and freelance Talent."
Asynchronous vs Synchronous communication
In May 2021, a Mercer study found that 70% of companies said they were planning to adopt the hybrid model, and furthermore asynchronous communication seems to be the preferred method of communication both in the office and out. Asynchronous is communication that doesn't happen in real time (Slack, Zoom, Teams, etc.) and offers the recipient more time to process information and think through a response. More importantly, in this increasing hybrid work world asynchronous communication is critical. There continues to be much debate about remote work reducing team creativity and innovation. Synchronous communication is ideal, some might argue imperative, in teams for brainstorming new ideas, products, services, etc.
Fractional VS Hollywood Work Model
In the world of tech, talent shortages have caused companies to consider alternative models to get the work done. The fractional model, growing in popularity, seeks out short-term, decentralized, and dedicated expertise that can achieve results in a fraction of the hours it may take a full-time (and often heavily managed) generalist to produce. For instance, rather than hiring a full-time employee to provide marketing support, the fractional model has a fractional worker commit to a certain number of days per week or month that this worker provides targeted services. For the business, they save money on salaries, benefits, taxes, and worker's comp while being able to count on a dedicated part-time team member familiar with their organization and its business processes providing those services. Fractional hiring can save your company significant time and money.
The Hollywood model utilizes experts in their respective fields for each role of a project. There has been an increase of this model in many businesses over the last few years, especially for specific projects. Freelancers and independent contractors who are experts in specific fields are brought on to work in certain areas of a project. Once the project is done, employment ends and everyone goes their separate ways. With virtual work increasing since COVID, we have seen an increase in this working model, as well. It's easy for these teams of experts to come together virtually from all over to get a job done. While utilizing the Hollywood model might allow a company to scale more quickly, building a cohesive team and perfectly coordinating the availability of these workers may be a challenge. Physical distance also makes it harder for team members to find shared experiences that human beings use to help forge personal relationships and build trust. And as James M. Citrin and Darleen DeRosa wrote in a recent Spencer Stuart piece, "Our research shows that top-performing virtual teams report higher levels of trust than less-successful teams. Trust is the foundation and precondition for team success."
Planning Ahead
While much was learned by the trends above in 2022 and with our 10-year tech strategy launch, I cannot wait to jump into the challenges and opportunities of 2023. With a potential looming recession and layoffs at tech biggies like Meta, Twitter, Facebook, Amazon, etc. It leaves me wondering – is this just a Silicon Valley thing? Either way, West Michigan has an opportunity to reach into this borderless talent pool and position itself as the next tech hub of the Midwest.
Are you growing your technology product or service in West Michigan and looking for local partners? Or do you just want to grow your network? Setup a one-on-one with me and I'd be happy to help make some connections! For more information, email me at wanglerj@rightplace.org.
Contact Jen Wangler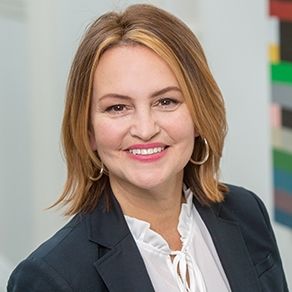 Jennifer Wangler
Vice President, Technology | Director, Technology Council of West Michigan
Jennifer provides retention and expansion assistance to Right Place clients in Kent County and site location assistance to national and international IT and tech companies. She also serves as the Director for the Technology Council of West Michigan.

Full Bio