Regional Industries
Manufacturers Council
Establishing the region as an international center for manufacturing productivity

Increasing Competitiveness Through Collaboration
Convened in 1989, The Right Place | The Center-West Manufacturers Council is dedicated to the business success of the region's manufacturing industry. The council's vision is to establish the West Michigan region as an international center for manufacturing productivity. Members work together in a collaborative environment to promote, facilitate, enable, and advocate for advancing a "best-in-class" manufacturing sector.

Manufacturers Council Executive Team
Chair | Chris Bardeggia, Vice President of Global Quality & Lean, Steelcase
Vice Chair | James Kolodziej, Operations Manager, Flexco
Past Chair | Patrick Greene, President, Cascade Die Casting Group, Inc.
Workforce Development Chair | Steve Heethuis, Talent Development Manager, Praeco Skills
Michigan Manufacturing Technology Center, Board Representative | Michael Davenport, President & CEO, Jireh Metal Products
Membership Chair | Todd Maines, TACK Electronics
Member at Large | David Beemer, Retired, Terryberry
Member at Large | Peter Hungerford, Executive Vice President and Chief Strategy Officer, ADAC Automotive
The Right Place, Inc. | The Center-West | Terry Hossink, Vice President of Manufacturing Services, The Center-West
Administrator | René Booker, Program Manager, The Center-West
Benefits of Manufacturers Council Membership
Collaboration

Membership in the Manufacturers Council provides an opportunity to create new collaborations with other manufacturing members and educational institutions. Many companies have worked together on everything from supply chain ordering to talent development and training.

Best Practice Learning
As part of a trusted group of manufacturing leaders, participating members share best practices and new learning with other members of the council. Plant tours and operational reviews are often part of sharing best practices.
Voice of Manufacturing in West Michigan
Since 1989, The Right Place | The Center-West Manufacturers Council has provided a voice for West Michigan's manufacturing community. Throughout that time, the council has had the opportunity to meet with and educate local, state, and federal elected officials, government departments, and future candidates on the opportunities and challenges facing manufacturers in the region.

Networking
As a member of the Manufacturers Council, you have the ability to network with other members of the council and their teams. This private networking opportunity provides a chance to develop new relationships and partnerships in the region.

Solving Common Challenges
Many of the problems facing West Michigan manufacturers are not unique to an individual business. The Manufacturers Council provides a platform and time to discuss these common challenges and address them as a team of companies. Discussions have and continue to focus on cost improvement strategies, talent development and retention, innovation, and sustainability.

Join the Manufacturers Council


Eligibility:
The company must be a Right Place, Inc. investor. Additionally, the Manufacturers Council membership of $1,200 is invoiced annually.
Membership is by company not individual. A council members company is responsible for replacing individuals should a council member leave the company.
Membership is for manufacturers and select others invited by the Executive Committee that reside in any of the 13 counties which make up MEDC Region 4.
The company must be represented by a key decision maker in the company. The company leader or designee is expected to attend council functions and events.
A company that is not a member of the Council may be invited to join a working group.
Members are asked to treat each other with respect, mindful of customer/supplier and/or competitor relationships. Particular consideration should be given to hiring practices as it relates to recruiting member companies' personnel.
On an as needed basis, council leadership to contact "lost" members to solidify membership.
If a Manufacturers Council member representative retires, he or she is eligible for continuing participation in the council if 1) he or she was actively involved in the council for the past five years (minimum) and 2) he or she was a high-level executive for a manufacturing company 30 continued participation is agreed to by the Executive Committee and can be reviewed annually.
Interested in Joining? Contact us today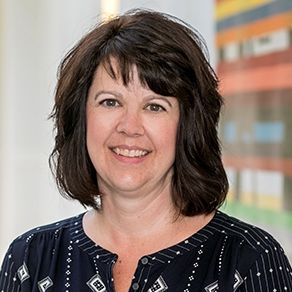 René Booker
Program Manager, The Center-West
René Booker is program manager for the Michigan Manufacturing Technology Center-West (The Center-West), providing support for events, marketing, and internal continuous improvement efforts. She also supports The Right Place/The Center-West Manufacturers and Supply Chain Management Councils.
Full Bio
Manufacturers Council Member Directory
If you would like to contact any members of the Manufacturers Council, please contact Rene Booker at bookerr@rightplace.org or 616.301.6247.

* = Executive Team Members
ADAC Automotive, Peter Hungerford, Executive Vice President & Chief Strategy Officer *
Amway Corporation
Aquinas College, Katharina Hausler-Gross, Associate Provost for Outreach and Engagement
BISSELL, Kara Smith, Senior Director - North American Operations & Consumables
Bradford White, Peter Kattula,Vice President of Operations
Cascade Die Casting Group, Inc., Patrick Greene, President, Past Chair*
Cascade Engineering, Steve Bushong, VP of Operations
Comfort Research, Ann Mason,SVP of Supply Chain and Operations
D&M Metal Products, Bob Buist, President
DeWys Manufacturing, Jon DeWys, President
DISHER, Joe Dyer, President*
Ferris State University, Gary Wendlowsky, Director of Corporate and Professional Development
Flexco, Doug Saunders, Director of Operations
Flexco, James Kolodziej, Operations Manager, Vice Chair *
GHSP, Dan Dawiedczyk, President
Grand Rapids Community College, Julie Parks, Executive Director of Workforce Training
Grand Valley State University, Paul Plotkowski, Ph.D., Dean, Padnos College of Engineering and Computing
Irwin Seating Company, Graham Irwin, President and CEO
Jireh Metal, Michael Davenport, President and CEO *
Lacks Trim Systems, Tony DeNardo, General Manager
Leggett & Platt – Work Furniture Group, Bob Ballard, Senior Vice President of Global Operations
Michigan State University, Brad Fingland, Director, Venture Creation - Physical Sciences
MillerKnoll, Beau Seaver, Vice President of Global Advanced Manufacturing
NK Manufacturing Technologies LLC, Jake Kassouni, Sales Engineer
NN, Inc. | Mobile Solutions Group, John Buchan, Executive Vice President - Mobile Solutions & Power Solutions
Nucraft Furniture, Scott Petzhold, Vice President of Human Resources
Praeco Skills, Steve Heethuis, Director of Talent Development*
Ranir - A Perrigo Company, Josh Aagesen, Associate Director
RoMan Manufacturing Inc., Robert Roth, President and CEO
Steelcase, Chris Bardeggia, VP, Global Quality and Lean - Chair *
TACK Electronics, Todd Maines, President *
Terryberry, David Beemer, Retired*
The Right Place, Inc. | The Center-West, Terry Hossink, Vice President of Manufacturing Services *
The Right Place, Inc. | The Center-West, René Booker, Program Manager *
Unist, Chuck Boelkins, President
Western Michigan University, Steven Butt, Ph.D., Dean, Industrial and Entrepreneurial Engineering and Engineering Management
Wolverine Coil Spring Co., Jay Dunwell, President